The finest foods on earth—all in Cambridge, New Zealand
The world is full of sensational foods—but you don't have to be a world-traveller to experience them. They're all found right here in the heart of the Waikato. Our shelves are brimming with mouthwatering foods carefully selected from over 30 countries, making this a cornucopia of the world's finest flavours. If you love food, you'll love Dante's.
Opening Hours
Mon-Fri 9am - 5pm
Thurs 9am - 5pm
Sat 9:30am - 3pm
Sun 10am - 2pm

61 - 63 Duke Street
Cambridge
07 827 3354
About Dante's
Take hundreds of delightful foods, add dozens of countries, a dash of local flavour, mix with oodles of passion and—voila!—you've got Dante's.

We stock the best foods from virtually every far-flung corner of the planet, with a range diverse enough to satisfy every appetite. Want Belgian chocolates? Perhaps Indian spices? French brie? Italian parmigiano-reggiano? South African biltong? Dutch liquorice? Swedish ginger biscuits? Or how about loose-leaf teas? Gluten-free flours? Premium muesli? Artisan chutneys and vinaigrettes? You name it, we've got it.

May 26, 2016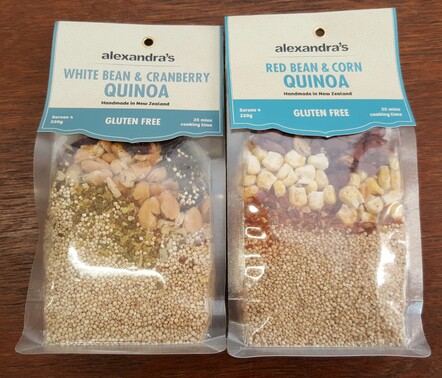 Quinoa is deemed to be one of many superfoods rediscovered in the last few years. I have never been too fond of this little ancient super grain, but I have fallen in love with Alexandra's Quinoa mix and I am now actually rather partial to this little 'mother of all grains'. Given that Quinoa is na...
read more

>
TEMPT YOUR TASTE BUDS BY EXPLORING OUR RANGE OF PRODUCTS